Toggle extended warranty
Brother PT-E500VP Industrial Labeller
Model #:

PTE500VP

PTE500VP

Brother
This industrial handheld labelling tool kit comes with design software to help integrate into workflow processes. See full product description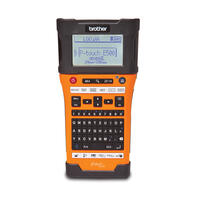 Brother PT-E500VP Industrial Labeller
Model #:
PTE500VP
Need supplies & accessories for this product?
Shop Now
Product Overview
Product Description
The PT-E500VP industrial handheld labelling tool kit comes with design software to help integrate into work flow processes. Design and print labels from a computer or link to a database to save time and help reduce errors. Download the designs with a database and print virtually anywhere without a computer. Smart technology, QWERTY keyboard, automatic cutter and a large backlit display help make the PT-E500VP easy to use to print wider labels for marking cables/fibers/wires, faceplates, patch panels, punch blocks and more. Also prints on heat-shrink tubing. Comes with software, case, Li-ion battery, adapter and 1-year limited exchange express warranty.

Learn more about our industrial labellers and their applications here
Main Features
Comes as a labelling kit for the price of an industrial labeller
Includes software to design and print custom labels from computer or from download
Print Labels From a Database Helps save time and helps reduce human input error
Able to create labels by entry of a few characters to search the database and then print
Prints on wide 24 mm tape to conform to the short and long ANSI/EIA/TIA-606x identifier format
Comfortable grip design and large backlit display and QWERTY keyboard
Smart label application keys to help reduce key strokes
Uses TZe and HSe tape - All in one drop in cartridge design helps ensure you get the best print quality and makes replacing media virtually trouble free
Advanced serialization options to save time printing single or multiple labels
Large back-lit LCD display shows label design settings and print preview at a glance
Rugged ultra-reliable design
Compatible with Flexible I.D. tape and heat-shrink tubing to mark cables fibre and wire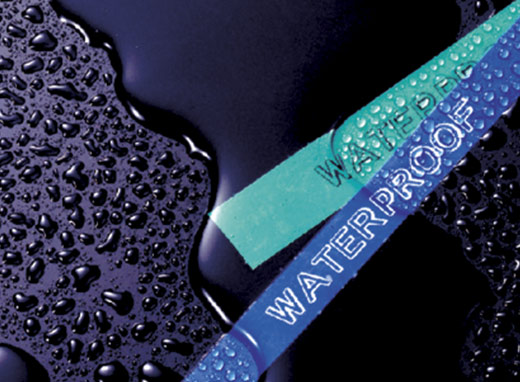 Brother P-touch laminated labels:
Designed and tested to last
We've rigorously tested our P-touch TZe labels under conditions like abrasion, chemicals, UV light and temperatures varying from -80°C to +150°C . Our labels withstand these extreme conditions and meet the requirements of professionals and their environments.
Engineered with six layers of materials for exceptional durability and performance, our innovative laminated tape technology is what sets Brother apart from the competition.
Dedicated features for professionals
The PT-E500VP has features designed for electricians, cable installers and construction professionals, including cable wrapping, cable flagging and punch block labelling. With several templates already available, you re sure to choose the right format without having to make manual adjustments. The integrated serialization function allows you to edit labels with a numerical or alphabetical sequence. This labeller also enables you to print on durable, heat shrink tubing.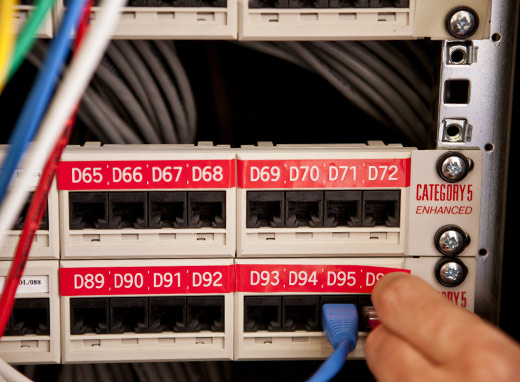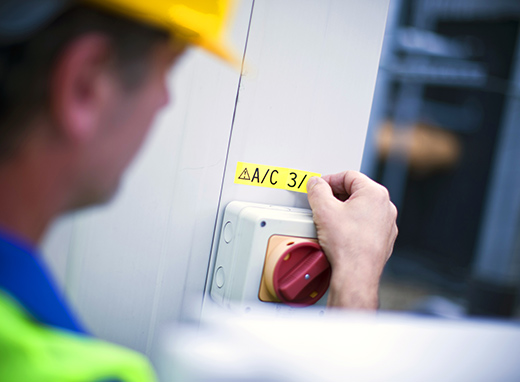 A connectable labeller for
ultra-customizable labels
This versatile labeller features 384 built-in symbols, including those most commonly used for industrial applications. Take label personalization even further by connecting the PT-E500VP to your computer via USB and create labels using P-touch Editor to import databases, screenshots and insert logos or images. The possibilities are virtually endless!
The professional labeller
that goes everywhere
This portable labeller will help you avoid unnecessary back and forth trips by keeping the things you need on hand to get the job done. Download and store custom labels or databases from your PC, then print them from your PT-E500VP labeller, even if you re on the go. The PT-E500VP comes with a carrying case and an AC adapter so you can take your labelling solution anywhere you need it. For added flexibility, use its long-lasting, included rechargeable battery.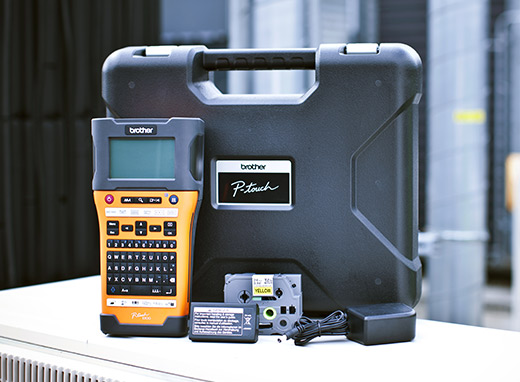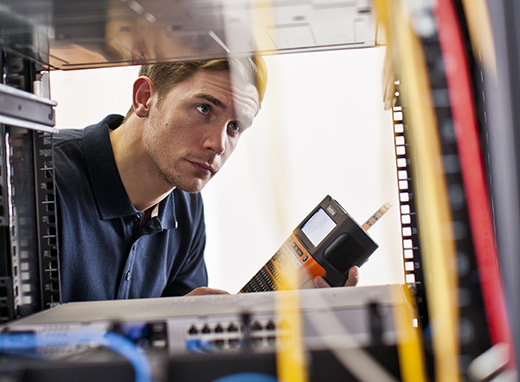 A high-performance motor
for efficient labelling
The PT-E500VP prints labels ranging from 3.5 mm to 24 mm wide and offers a printing speed of up to 30 mm/second to reduce printing time. Its advanced automatic cutting system allows you to produce a long strip of serialized labels, which can be easily peeled one at a time, ensuring that the labels are kept in the right order.
P-touch Editor: label design
software for PC and Mac
Brother s free P-touch Editor software allows you to design labels on your PC or Mac. Offering many possibilities such as printing barcodes, importing logos and other graphics, it also allows you to use the fonts installed on your computer. Import a Microsoft Excel database or a .csv file to print multiple labels quickly and efficiently.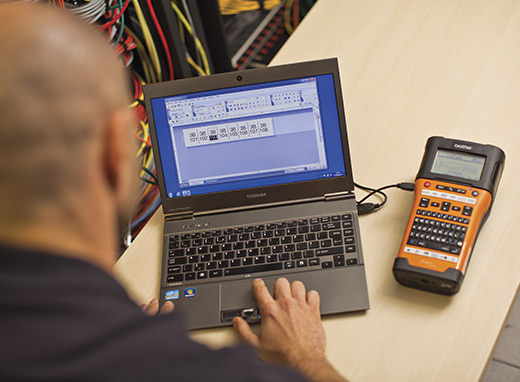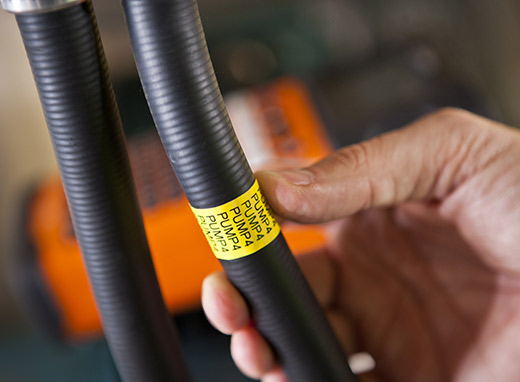 A wide choice of specialty tapes
In addition to standard laminated tapes available in different sizes and colours, Brother has developed a range of tapes for special applications in the industrial sector.
These include flexible ID laminated tapes for curved surfaces (cable wrapping, cylindrical surfaces, tubes and pipes), strong adhesive laminated tapes for irregular surfaces (textured, rough, slippery painted metal, powder-coated or uneven items) or heat shrink tubing to tightly fit wires or cables.
Specifications
Labellers
Print
| | |
| --- | --- |
| Barcodes (connected to computer) | 21 (Code39), Aztec), Codabar (NW-7), Code 128, Data Matrix, EAN-13, EAN-8, GS1 Composite, GS1 DataBar (RSS), GS1-128 (UCC/EAN-128), ISBN-2, ISBN-5, ITF (I-2/5), Laser Barcode, MaxiCode, Micro QR Code, PDF-417, POSTNET, QR Code, UPC-A, UPC-E |
| Barcodes (stand-alone mode) | 9 (Code39), Codabar (NW-7), Code 128, EAN-13, EAN-8, GS1-128 (UCC/EAN-128), ITF (I-2/5), UPC-A, UPC-E |
| Barcode Printing | Yes |
| Database Printing | Yes |
| Max. Print Lines | 7 |
| Max. Print Height | 18mm |
| Mirror Printing | No |
| Rotate Printing | Yes |
| Vertical Printing | Yes |
Carton Contents
| | |
| --- | --- |
| Included Items | PT-E500, Protective Carrying Case, AC Adapter (AD-E001), Li-ion Rechargeable Battery Pack (BA-E001), TZeFX231 12mm x 8m Black on White Flexible ID Tape, Wrist Strap, CD (P-touch Editor 5.1 Software, Printer Drivers, Transfer Manager, User Guides), Warranty & Product Registration Sheet |
Copy
| | |
| --- | --- |
| Multi-Copy Print (Up to copies) | 99 |
Other
| | |
| --- | --- |
| Model Type | Industrial Handheld |
| Built-in Symbols | 384 Industrial Symbols |
| Carrying Case | Included |
| Font Styles | 10 (Normal, Bold, Outline,Shadow, Italic, Italic Bold, Italic Outline, Italic Shadow, Italic Solid) |
| Housing Colour | High Visibility Industrial Orange |
| Internal Fonts | Helsinki, Brussels, Belgium, Florida, Los Angeles, San Diego, US, Calgary, Atlanta, Adams, Brunei, Sofia, Germany, LetterGothic |
| Usage | Industrial use |
| Label Length Setting | Auto, 25mm to 999mm (Label Type Setting) |
| Maximum Tape Size | 24mm |
| Internal Font Sizes | 9 (6pt, 9pt, 12pt, 18pt, 24pt, 36pt, 42pt, 48pt, Auto) |
| Tape Sizes | 6mm, 9mm, 12mm, 18mm, 24mm |
| Tape Types | Acid Free, Extra Strength Adhesive, Flexible ID, Heat Shrink Tube, Iron-On Fabric, Standard Adhesive |
| Internal Font Styles | 10 (Normal, Bold, Outline,Shadow, Italic, Italic Bold, Italic Outline, Italic Shadow, Italic Solid) |
| Multi-Block | Yes |
| Point Sizes | 9 (6pt, 9pt, 12pt, 18pt, 24pt, 36pt, 42pt, 48pt, Auto) |
| Power Supply | External AC Adapter & Internal Li-ion Battery Standard, Internal AA Size Alkaline Battery (Optional) |
| Power Switch | Soft Rubber Key |
| Tape Family | TZe, HGe, HSe |
| Types of Styles | Bold, Italic, Italic Bold, Italic Outline, Italic Shadow, Italic Solid, Normal, Outline, Shadow |
| Tape Length | 8m |
| Unit Dimensions (W x D x H) | 12.6cm x 25.0cm x 9.4cm |
| Tape Technology | Laminated Thermal Transfer |
| Unit Weight | 0.9kg (without tape & batteries) |
| Warranty | 1-Year Limited Warranty |